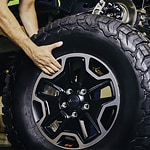 If you have ever had problems with your tires, then you are well aware of the expense that can be incurred. These are critical parts of your Chrysler, so you want to make sure that they are fully functional at all times. This is also why you will want to have a road hazard tire and wheel protection policy in effect.
When you have this plan, you will not have to worry about paying any money out of pocket for covered repairs. Even replacement tires or wheels will be covered with a $0 deductible. This is a great way to protect your investment.
There are also times when your tires might be damaged because of a curb or a pothole. When this happens, you can expect the policy to pay for the repair of such damages. Whenever you do need service for your vehicle, the service department at Ram Country Del Rio is ready to assist you.