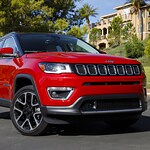 Incredibly popular for many reasons, the Jeep Compass is a quality compact SUV that has a luxurious interior. It's great for off-roading and simply enjoying trips to the grocery store.
Premium Sound System

Available for the Jeep Compass is an Alpine audio system that's of premium quality. The specifications include a dual voice coil subwoofer that's eight inches in size, nine incredible speakers and a 506-watt amplifier. Whether you listen to a podcast or radio station, a premium sound system will enhance the experience.

Heated Steering Wheel

?Some features in a vehicle make driving more enjoyable than it would be otherwise. That's the case with the heated steering wheel in the Jeep Compass. Driving on cold days won't be the same in a Compass.
Getting behind the wheel of a Jeep Compass for a test drive is a great way to get a good feel for its many features. We invite you to do that here at Ram Country Del Rio.