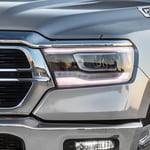 If you are looking for a vehicle that can get more done, then the RAM 1500 is your choice. The RAM 1500 is a popular light-duty truck that is known for its incredible durability. Here are two top durability features standard on the RAM 1500.
Each RAM 1500 truck is built on a high strength steel frame. This powerful frame allows the truck to have a maximum towing capacity of 12,750 pounds and a max payload of 2,300 pounds. Also, all RAM 1500 models come with the durable Torqueflight eight-speed automatic transmission. This unique transmission system allows the truck to better handle shift changes and optimizes performance.
Get a first-hand look at what the RAM 1500 has to offer. Visit Ram Country Del Rio. We're ready to offer you the RAM 1500 of your choice at a great price. Don't miss out. The RAM 1500 is going fast and will not last.