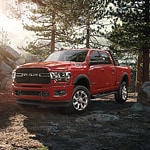 If you are looking for one of the toughest heavy-duty trucks on the road, then you will want to consider the RAM 2500. This heavy-duty truck is engineered to get more done. Here is a look at some of the most impressive durability features of the popular RAM 2500.
A vehicle cannot be durable without a strong frame. That's why the RAM 2500 is designed with a special high strength steel frame that features extra cross members to handle heavy payloads and more demanding driving conditions. The RAM 2500 also offers one of the top diesel engines in its class. The available Cummings inline-six-cylinder engine is able to go a class-leading 15,000 miles between oil changes. Overall, the RAM 2500 offers one of the toughest packages of any vehicle currently available.
See all the amazing durability features that the RAM 2500 has to offer. Visit our showroom at Ram Country Del Rio and take a test drive today.