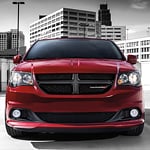 The new Dodge Grand Caravan continues to lead the way in the popular family minivan market. All eyes look to this sleek, sporty and roomy minivan to show how to provide the best of driver and passenger safety to consumers today.
The new Grand Caravan makes available to drivers an innovative and panoramic rear view camera that provides a wide view of what is directly behind their minivan. You can easily back out of any parking space or out of your own driveway without hitting anyone or anything behind you. You can see if anything is in your path before you even back up.
The new Grand Caravan also comes with a LATCH system and child locks to keep the youngest of your minivan riders safe and away from harm. You can easily lock in car and booster seats thanks to the harnesses and latches. Test drive the new Grand Caravan today.