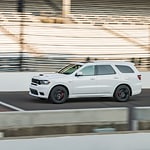 A showpiece of a three-row SUV, the new Dodge Durango comes packed with performance features that make it a pleasure to own and drive.
To start, it comes with an impressive 7400-pound capable V8 automatic engine that makes it ideal for towing heavy vessels like boats and trailers. It is a leader in its class for its remarkable payload and towing power. It also has built-in trailer sway control so that you can keep whatever you have hitched behind your SUV in your lane of traffic. Shifting and maintaining speed on the highway is also a breeze thanks to the new Durango's HEMI engine with an electronic Sinister shifter.
To appreciate all that the new Dodge Durango has to offer yo and your family, you need to take one on a test drive. Experience the power and ease of handling on the road by trying one out for size today.