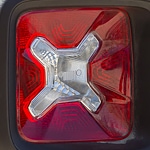 Jeep knows how to give a vehicle exterior features that look great while also serving a purpose. If you are someone ready to get out and explore more of the area around Del Rio and beyond, the Renegade makes an excellent choice. You can experience it for yourself at Ram Country Del Rio, but here is a sneak peek at what to expect.
A dual-pane sunroof is available on select models of the Jeep Renegade. This popular feature makes stargazing even more exciting. It also is great to let in fresh air for you and your passengers.
There are ten exciting paint options for you to choose from, making it easy to match your taste to a Renegade. Will you choose Omaha Orange? Alpine White? Solar Yellow? These are just a few examples of the eye-catching choices. And if that is not enough, there are also several wheel styles and sizes for you to ponder when picking out the right Renegade for you.