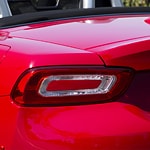 Right now, there's a lot of attention surround the Fiat 124 Spider Roadster. This compact sports convertible delivers quite a punch of style and substance, with performance features that make other luxury sports vehicles look much less desirable. Here at Ram Country Del Rio, we want to be sure you're well aware of this vehicle's potential.
The Roadster has a 1.4 liter engine that offers up to 160 horsepower, so you can be secure in the fact that you'll always be taking off with plenty of adrenaline behind you. With 184 pound-feet of torque, corners and hills will be handled with ease, making you feel like a true master of the road.
If you want to know what it feels like to handle the Roadster, then come visit us here at Ram Country Del Rio to set yourself up with a test drive. Located in Del Rio, our staff will be happy to answer any and all questions you might have.