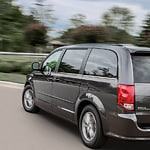 While driving a new Dodge Grand Caravan, you are sure to take notice of both the capability and flexibility of this unique minivan. One of the Grand Caravan's biggest strengths, however, is its interior feature offerings. This is particularly true when it comes to this Doge minivan's storage and seating.
If you would like to carry as many as seven people, then your new Grand Caravan will allow you to do that. Furthermore, these individuals' comfort will be enhanced by the Three-Zone Temperature Control, which is also available to keep passengers in different segments of your Dodge minivan as comfortable as possible.
If, however, you are more concerned with the Grand Caravan's cargo abilities, then you will be pleased to discover that this minivan will serve Del Rio owners as a trustworthy cargo van too due to its available 140 cubic feet Stow 'N Go storage. Ram Country Del Rio also recommends the Dodge Grand Caravan if you are more family-oriented.